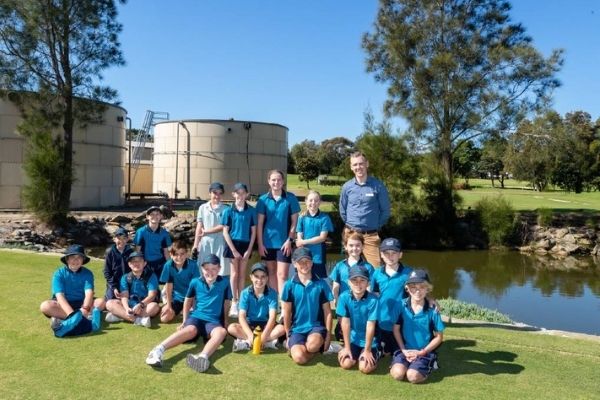 Students from St Aloysius Primary School, Cronulla, have been recognised for their outstanding work in developing a water recycling system.
A team of students from the school were invited to take part in a virtual Future You 2 You event which took place at Questacon – The National Science and Technology Centre, last Wednesday.
The event showcased the work of students from years 3 to 6 at eight primary schools across Australia who were addressing challenges in their school and local communities using STEM.
The St Aloysius Primary School students have been working collaboratively with representatives from Sutherland Shire Council, Sydney Water, Cronulla Wastewater Treatment Plant, local golf courses and water engineers to develop a digital system that solves salinity problems in wastewater reuse at golf courses.
They used micro bits, sensors and components to develop and build a system that monitors tide height and salinity levels, automatically redirects salty water, measures moisture and automatically waters playing fields with recycled water.
The digital system operates using radio signals and conditional code to monitor salinity levels and automatically control water pumps.
The event was hosted by Australia's Women in STEM Ambassador, Professor Lisa Harvey-Smith, who had previously invited primary school teachers whose students were working on real-world STEM challenges to apply to take part in the event.
Professor Harvey-Smith, Australia's Chief Scientist Dr Cathy Foley and a number of STEM professionals attended the event, where they engaged with the students about their projects.
The students also participated in a live Q&A with some of Australia's best scientists, technologists and engineers who work to solve similar challenges in their everyday career.
Professor Harvey-Smith said she was impressed by the ideas that were unveiled during the event.
"In particular, St Aloysius's project to address water recycling is a phenomenal example of what can be achieved through the application of STEM skills," she said.
"We are thrilled our younger generation can experience first-hand the power and wide-ranging benefits of STEM."
The event is part of the federal government's Future You initiative to increase girls' participation in STEM by raising awareness of the range of exciting STEM-skilled career opportunities available.
"We know the 8 to12 age group is critical to longer-term interest in STEM careers," said Professor Harvey-Smith.
"The Future You platform was designed to engage these children and excite them with the vast career options that require STEM skills and more importantly, to show that these jobs are for everyone.
"The perception that some STEM fields are a better fit for boys is one of the biggest barriers to girls participating and pursuing STEM studies and careers.
"We need to overcome these stereotypes early and show all children in this age group that STEM is an exciting and rewarding career for everyone."
Original article: Students from St Aloysius Primary School receive praise for STEM project